Arimidex 1 mg (Anastrozole)
Brand:

Astra Zeneca, Turkey

Model:

Arimidex 1mg

SKU:

ARD1MG

Active Ingredient:

Anastrozole

Treatment:

Breast Cancer

Availability:

In Stock
Arimidex 1mg Tablet contains Anastrozole which is used for the treatment of breast cancer in postmenopausal women. Some types of breast cancers are made to grow faster by a natural hormone called estrogen.
Arimidex tablet (Breast Cancer Pill) works by reducing and preventing an increase in the amount of a hormone called estrogen made by your body. It also works by blocking a natural substance in your body called 'aromatase' (an enzyme).
Arimidex 1 mg Pill Overview:
Generic Name




Arimidex 1mg, Arimidex Pill




Active Ingredient




Anastrozole




Manufacturer




Astra Zeneca, Turkey




Drug class




Aromatase inhibitors




Dosage




1 mg Tablet




Treatment




Early-stage or advanced-stage breast cancer In Women After Menopause.
Post-menopausal women who have been diagnosed with hormone receptor-positive.

Packaging




14 tablets in 1 strip




Delivery Time




10 - 12 Days




Delivered Countries




USA, UK, Canada, Australia, China, Japan, South Africa



What is Arimidex 1 mg?
Arimidex 1mg tablet is an aromatase inhibitor medication that contains "Anastrozole". Aromatase inhibitor medications are used to treat some types of breast cancer in which the cancer cells depend on the hormone estrogen to survive.

Why Is Arimidex 1 mg The Right Medication For You?
In women, the ovaries quit producing estrogen after menopause. Their bodies instead create estrogen using the enzyme aromatase. Arimidex Pill (Aromatase inhibitors) works on production of estrogen by reducing the amount of aromatase in their bodies. Because they have nothing to eat and cancer cells are unable to multiply.

What is Use of Arimidex 1mg Tablet?
Arimidex 1 mg tablet is used to treat Post-menopausal women who have been diagnosed with hormone receptor-positive, early-stage, or advanced-stage breast cancer. Premenopausal women are not frequently treated with Anastrozole.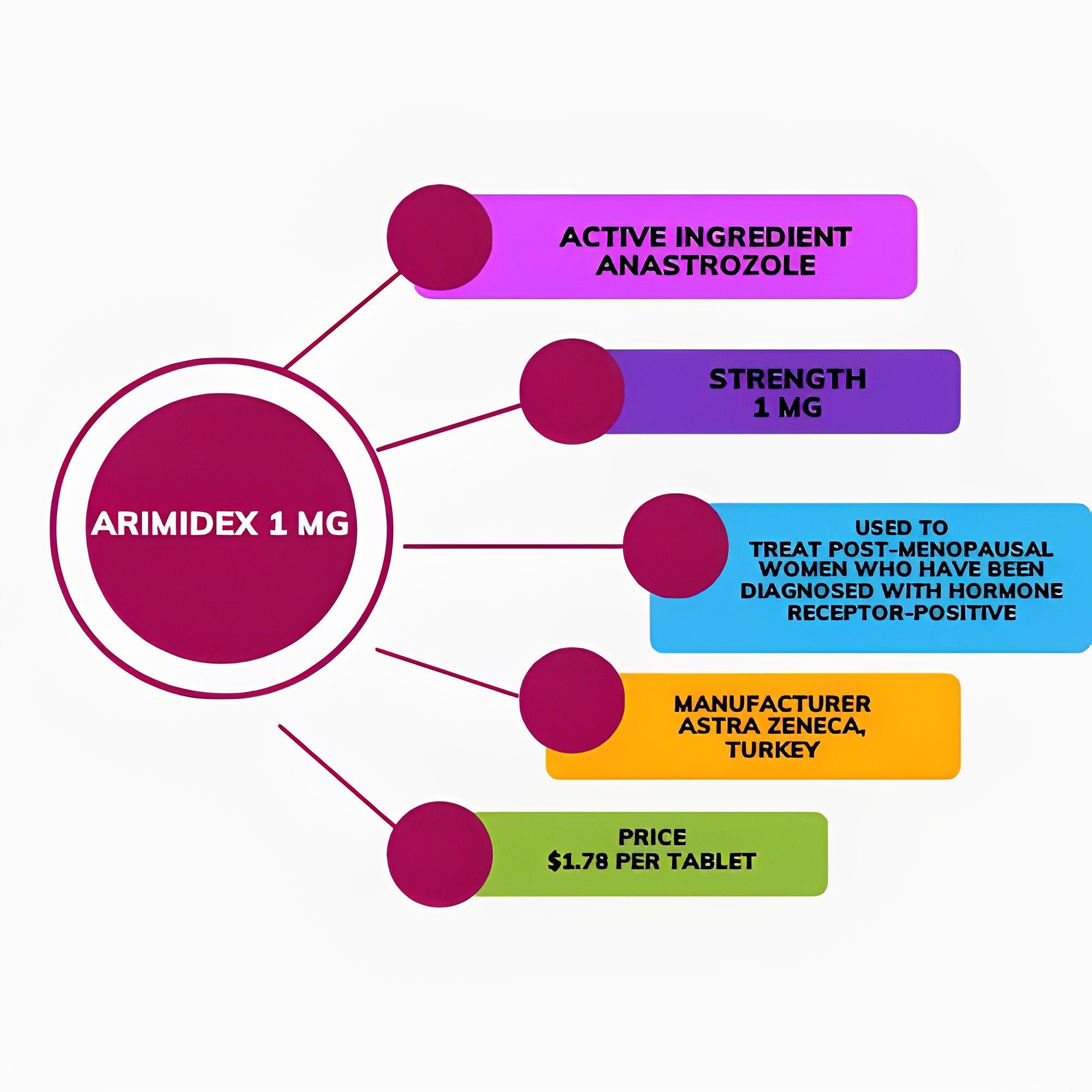 Arimidex 1 mg Pill Mechanism and Action
Arimidex Pill contains 1mg Anastrozole as an active ingredient that belongs to a class of medication called aromatase inhibitors works by blocking the enzyme aromatase an enzyme that converts androgen into estrogen, thereby reducing estrogen levels in the body. This means less estrogen is available to stimulate the growth of hormone receptor-positive breast cancer cells.
How to Take Anastrozole 1mg Tablet
Take Arimidex 1mg exactly as directed by your physician. If you are unsure what to do, call your doctor or pharmacist for advice.
Anastrozole Tablet is best swallowed whole, not crushed, chewed, or broken. It can be taken with or without food, but it's still better to take it at a fixed time.
Side Effects
The side effects of Arimidex 1mg Pill that were most frequently reported during the early breast cancer clinical trial included:
Hot flashes,

Joint Pain symptoms (including arthritis and arthralgia)

Weakness

Mood swings

Pain

Back pain

Sore throat

Nausea

Vomiting

A rash

Depression

High blood pressure

Osteoporosis

Fractures

Swelling of the arms and legs

Insomnia and headache

Hot flashes

Nausea

Decreased vigor and weakness
It has been shown that using an Anastrozole tablet may cause stiffness and joint pain.
Drug Interactions:
Tamoxifen and estrogen-containing medications shouldn't be combined with Arimidex 1 mg.
Food Interactions:
Take it with, or without, food. Co-administration with food reduces the rate of absorption, but not the overall extent of absorption.
Precautions
"Use Arimidex 1mg Tablet with prescription only for postmenopausal women".
If you are allergic to any of the medications, avoid taking Anastrozole 1mg tablet.
Women who have a history of heart artery blockages (ischemic heart disease) and taking Arimidex Pill may experience a modest increase in this type of heart disease compared to similar patients who take tamoxifen, according to data from a trial in patients with early breast cancer.
Osteoporosis, a condition that this medicine can exacerbate, raises the risk of fractures.
Arimidex Pill should not be used by anyone who is nursing a baby, pregnant, trying to get pregnant, or who has even a risk of becoming pregnant. Developing embryos may suffer harm as a result of Anastrozole medicine.
While taking this medicine, you should use a reliable non-hormonal method of birth control. Find out from your doctor which non-hormonal birth control is best for you.
In a clinical trial including women with early-stage breast cancer, Anastrozole tablet resulted in 10% more fractures than tamoxifen (7%), including fractures of the wrist, hip, and spine.
Some patients Arimidex Pill using saw a rise in cholesterol in a clinical investigation of early-stage breast cancer. There have also been reports of skin problems, allergic reactions, and modifications in blood tests for liver function.
The use of Arimidex is prohibited in children and adolescents.
Arimidex 1mg Tablet Reviews:
The reviews of the Arimidex 1mg tablet show that it has an average rating of 9.2 out of 10 from all over the world. More than 92% of reviewers have been highly satisfied with the results of this medication.
Why Arimidex 1 mg is So Popular In The USA And People Use It?
The primary use of "Arimidex is for the treatment of breast cancer". It is also used in postmenopausal women for the treatment of "early hormone receptor-positive (HR+) breast cancer". It helps to prevent cancer from coming back or spreading after surgery.
Anastrozole 1mg tablet works by inhibiting the aromatase enzyme, which converts small amounts of androgen hormones into estrogen in the body.
Where To Buy Arimidex Pill At Affordable Prices?
Two options to Buy Arimidex Pill, first is that you can buy it from any local pharmacy but if you want to Order Online Arimidex 1mg then Buygenericpills is the best option for you.
Reasons and benefits why you should Choose Buygenericpills:
You can avail of our services 24/7.

All payment methods are quick and easy to use.

All medicines are verified and safe.
FAQS
Q1) What is Arimidex 1 mg used for?
Ans: "Arimidex 1 mg tablet is used to treat breast cancer in women who have gone through menopause". It works by reducing the amount of a hormone called estrogen that your body makes. It works by blocking a natural substance (an enzyme) in your body called 'aromatase'.
Q2) What is the success rate of Arimidex 1mg tablet?
Ans: "Arimidex 1mg Pill" reduced the risk of breast cancer by 53% after 7 years of follow-up and by 50% after 10.9 years of follow-up. Arimidex also reduced other cancers, such as endometrial cancer, ovarian cancer, lung cancer, and melanoma, compared to a placebo.
Q3) Is there anything I should eat or drink less of while taking the Anastrozole tablet?
Ans: Most people who take Anastrozole 1 mg tablet are able to eat and drink regularly. Despite the fact that some people may experience hot flush or skin rashes after drinking alcohol, Arimidex pill (Anastrozole) might sometimes cause some people to lose their appetite.
If you find yourself lacking in appetite, attempt to improve the nutritional quality of your diet by eating smaller meals more frequently. Ask your doctor or a specialist nurse to recommend a nutritionist if you notice that it makes you feel more ravenous and that you are gaining a lot of weight.
Q4) Is Arimidex Pill toxic to the liver?
Ans: Although rare, it is possible to have cardiotoxicity or liver toxicity from taking Arimidex pill. Cardiotoxicity is damage that can happen to the heart that can affect how well it works. Similarly, liver toxicity is damage to the liver that can affect its function.
Q5) Can Arimidex Affect Your Heart?
Ans: "Risk of heart problems from hormone therapy":
There is some evidence to suggest that aromatase inhibitors may increase heart problems. Aromatase inhibitors are a type of hormone therapy used to treat breast cancer. The group of aromatase inhibitors includes Arimidex.
Q6) How soon can I start using birth control?
Ans: Arimidex 1 mg dose, you should continue using the birth control for at least three weeks.
Q7) Does anastrozole make you angry?
Ans: Symptoms of mood disturbances, drowsiness, anxiety, fatigue, hot flashes, and memory loss have been reported in patients receiving anastrozole as adjunctive therapy.
Q8) What should I do in case of the missed Arimidex 1mg dose?
Ans: If you forget to take an Arimidex 1 mg dose it is important that you take it as soon as possible. However, if it has been more than 4 hours since your last dose, skip the missed dose and resume your regular dosing schedule.
Avoid taking the double dose to make up for the missed one.
Q9) What are the conditions to store the Arimidex pill?
Ans: Keep all medications out of reach and sight of children, pets, and/or people who may have a hard time reading. Store at room temperature away from light and moisture. Avoid storing it in the bathroom.
Q10) Can I drive if I have taken Arimidex 1mg?
Ans: No! Although it has only negligible effects, it might be dangerous for you to drive if you feel any weakness. So keep a check on your health.
Q11) When can I stop taking the medication?
Ans: Do not stop taking your tablets unless your doctor tells you. In case you have any questions, ask your doctor or nurse before taking any action.
Tags: Arimidex 1mg, Arimidex Pill